Couple Fit Neuro Diverse Couple Training
You are not alone…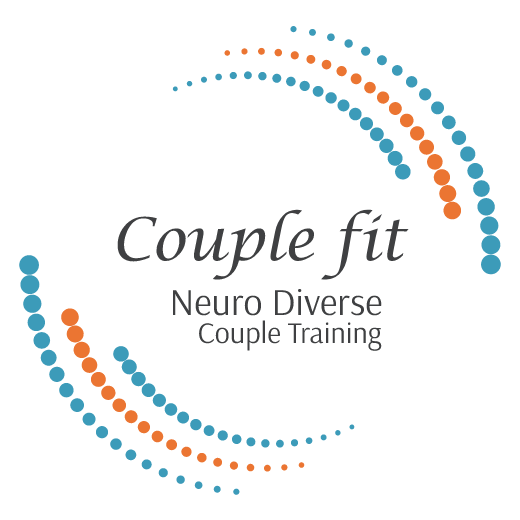 Our course has been specifically designed for couples impacted by neuro diversity. It tackles the issues with a new approach providing fresh information, quick and easy to use strategies, real life case studies and group discussions.
Neurodiversity – meaning and impact
Couple Conflict – the Couple Fit and its impact on socialisation, parenting and intimacy
Communication
Executive Function
Emotional Regulation
Course Format
These evening sessions will meet on Zoom over 6 weeks. 
Sessions are 2 hours. Participate from the comfort of your own home. Up to 12 couples will participate.
Online (via Zoom)
The course runs over 6 weeks. 
The sessions are in the evening. 
Sessions last 2 hours.
No more than 12 couples.
Opportunity for questions and answers at the end of each session.
Outcome of Couples Fit course
You will both gain  practical tools and techniques to navigate your relationship and communicate more effectively your needs. 
This will result in a better understanding of what this means practically to both of you. Helping you both to understand how to better fulfill your partners needs.
If you are would like to take the course. Please get in touch. We will send you a questionnaire followed by a short ten-minute chat with either Di or Karen to confirm details and availability.
About the trainers
Combining 50 years of experience to bring you a ground breaking course.
Karen Doherty
Karen Doherty is a Couple Therapist and has been working in private practice for 18 years. She specialises in couple issues and developed an interest in neurodiversity whilst working with her client base made up of financiers and creatives. For the past five years, she has run training and talks around neurodiversity and relationships.
Dianne Zaccheo
Dianne Zaccheo is a Family Therapist and Specialist Coach working in private practice for 30 years . Dianne works with individuals and families experiencing the difficulties of Neurodiversity; e.g. Autism, ADHD, Learning and Behaviour Disorders.